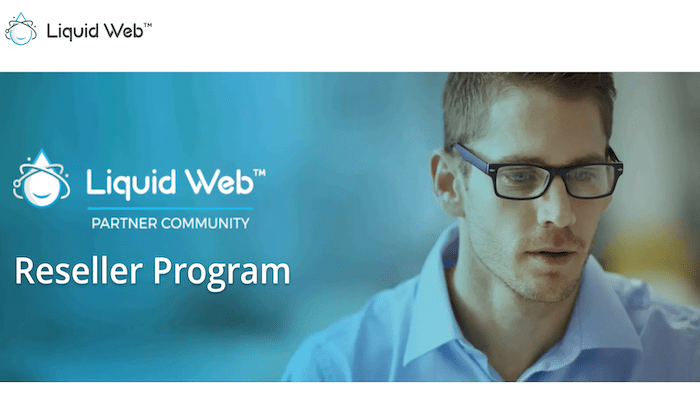 Disclosure: This content is reader-supported, which means if you click on some of our links that we may earn a commission.
Reseller hosting can be extremely lucrative. Whether it's an add-on to your existing business, a side hustle, or the start of a standalone hosting company, there are plenty of ways to turn a profit in this space.
Every website needs a hosting service. White label resellers become that solution for their clients. By renting servers at wholesale rates from web hosting providers and reselling them to other sites, it's easy to generate a substantial ROI.
But it all starts with finding the right reseller hosting company for your needs. Which one is the best? Find out below.
The Top 5 Options For Reseller Hosting
How to Choose the Best Reseller Hosting For You
Certain criteria must be evaluated as you're shopping around and comparing reseller hosting companies side-by-side. The factors identified below should be considered before finalizing a decision.
Hosting Type
By default, most reseller packages are offered on shared hosting servers. But different providers offer various hosting options, including VPS reseller hosting, cloud reseller hosting, and even dedicated server reseller hosting.
The hosting type you select will have a direct impact on performance. For example, shared hosting is considered to be entry-level. So, your clients won't necessarily have the highest performing websites if you're reselling shared hosting. Traffic spikes on one site could lead to crashes or slow loading times on another.
VPS or dedicated hosting would improve site performance for your clients. These are more expensive, but you can pass those costs along to each client.
Quality and performance will both be a direct reflection of your brand and services. Often, prioritizing quality is worth the added cost. Choosing the right type of hosting is a crucial decision.
Number of Clients
There's a big difference between selling reseller hosting services to 20 clients versus 200+ clients. Be realistic, and ask yourself how many clients you plan to acquire and retain on a monthly or annual basis.
Some reseller plans are better for managing smaller client lists, while others are built to scale. There are even reseller hosting packages out there that can accommodate an unlimited number of websites.
Billing and Client Management
The best reseller hosting plans set you up for success and come with add-ons or built-in tools for managing your clients.
Look for features like web hosting manager complete solution (WHMCS). It's an industry-leading web hosting and billing management tool. You can use it to automate billing, collect payments, set up provisioning, and more. Blesta is also a popular tool for billing and client management.
Some plans come with a free WHMCS or Blesta license, while others charge extra for access to these tools.
Technical Ability
Ease of use with reseller hosting is not universal across the board. Some platforms are definitely more user-friendly than others.
Some reseller hosting solutions are made for developers and other tech-savvy users. Others are designed to accommodate beginners or agencies looking to add-on to existing services.
Be honest about your technical ability and that of your team, and the learning curve associated with the tool. It should be reasonably easy to determine if the plans you're evaluating fit within your level of comfort. The terminology and use cases described for each package can be very telling. If it feels like you're reading a foreign language, it's probably not the best option for you.
White Labeling
Hosting for clients can typically be offered in one of two ways—managed or white label.
Some resellers build and manage sites for clients behind the scenes without granting the client access to their site's hosting control panel. Others simply re-brand the hosting services and give clients log-in access to manage the hosting service independently.
With a white label plan, the client never knows where you're getting hosting from. You'll have the ability to put your own branding and logos on this dashboard. Not every reseller plan comes with white label capabilities out of the box.
The Different Types of Reseller Hosting
There are different options when it comes to reseller hosting. They typically fall into one of the following four categories:
Shared Reseller Hosting
Shared hosting is when all websites share resources from the same server. Clients will be sharing server space with each other, as well as other sites that you're not directly selling hosting to.
If no hosting type is specified on the package being evaluated, it's usually safe to assume that the plan is shared.
Shared hosting is typically the cheapest, but the performance isn't always great. Clients may experience slow loading times or even crashes if other sites on the same server use up resources.
VPS Reseller Hosting
VPS stands for virtual private server. Websites are still hosted on one central server, but they'll have dedicated resources on their own virtual servers.
VPS hosting is an excellent option for white label resellers. It offers flexibility and improved performance without breaking the bank. This option will be more expensive than shared hosting, but it's still a good value.
Dedicated Reseller Hosting
Dedicated reseller hosting involves renting an entire server from a hosting provider. In this case, resellers won't have to worry about other websites being hosted or sharing resources with their clients.
This allows you to provide more RAM, CPU, bandwidth, and storage to your clients. It's more expensive, but the performance will be top-notch.
Dedicated reseller hosting is generally better for resellers with a high volume of clients. If you're only managing a dozen sites or so, this really isn't necessary.
Cloud Reseller Hosting
Cloud hosting is a bit new compared to other types of web hosting. It's not necessarily the most popular option for resellers, but some providers now offer this choice.
Think of cloud hosting like a hybrid version of a VPS. Rather than each site being split into a single virtual private server, each is hosted on multiple cloud servers.
Cloud hosting is a good option for resellers who want to give clients the ability to scale their resources on-demand. These packages typically offer "pay as you go" pricing, so clients pay based on usage.
#1 – SiteGround Review — The Best For Unlimited Sites
SiteGround is one of the most popular and reputable web hosting providers on the market today. Their reseller plans are no exception.
Resellers benefit from everything they need to start selling hosting and managing multiple sites out of the box. One unique standout of SiteGround is that it's built to scale. All reseller packages support an unlimited number of websites.
Even the entry-level package supports unlimited sites. You won't find a value like this from other hosting providers on the market today.
SiteGround is also flexible enough to accommodate resellers with different needs. For example, you can resell hosting to clients without giving them direct access to the control panel for each site. This is a popular choice for developers who build and manage sites for clients.
Alternatively, you can give clients full access to their control panel by assigning them as white label users. They won't see any SiteGround logos or branding when they log in, so you can brand the hosting service as your own. White labeling is offered with the GoGeek and Cloud plans.
The cloud reseller hosting plans from SiteGround also allow you to set up custom packages and user access for your clients.
Other top features and benefits of using SiteGround's reseller services include:
Single dashboard to manage all sites
Built to scale
30+ tools like FTP client, PHP version manager, app installer, etc.
Free WordPress installations
Automatic WordPress updates
Daily backups
On-demand backups
Free SSLs
Free CDN
Free email
Unlimited databases
Caching to boost speed
Ability to add collaborators
SiteGround also has exceptional support for resellers. If you need help or have a question, their hosting experts are available via live chat and ticket support.
Reseller plans start at just $5.99 per month.
#2 – HostPapa Review — The Best For Reseller Beginners
HostPapa is perfect for anyone new to reselling. The platform is straightforward to use, and advanced technical knowledge is not a requirement.
They handle everything on the backend, so you never have to worry about the server architecture being sold to clients. HostPapa takes care of server firewalls, brute force detection, site security, network monitoring, IP deny manager, SSL encryption, and so much more.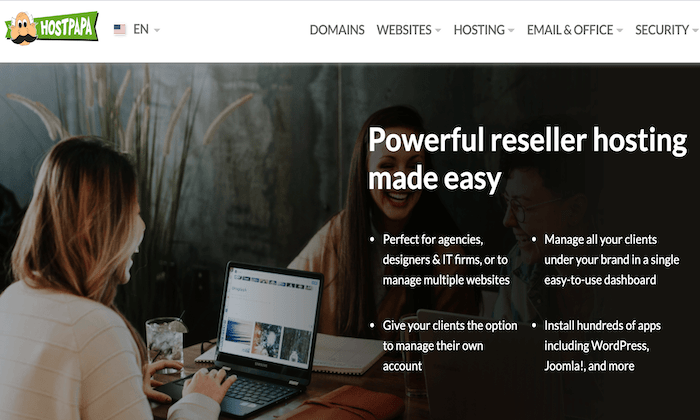 The exceptional support and resources designed specifically for resellers are highly beneficial to beginners. HostPapa offers free 30-minute training sessions, self-help guides, reseller tutorials, and award-winning customer service.
You'll even have the option to provide your clients with their own control panel access through a brandable white-label portal. This includes branded white-label nameservers.
Here are some other top reasons to choose HostPapa for reseller hosting:
One-click installation for 400+ apps
Built-in automation to manage client subscriptions
WHMCS billing system
Free site transfers from other hosting providers
Simple dashboard to manage all sites
Unlimited sites
Easy to scale and add resources
99.9% uptime guarantee
24/7/365 tech support
Reseller plans start at $29.99. All packages are backed by a 30-day money-back guarantee.
#3 – InMotion Review — The Best Reseller VPS Plans
InMotion is another industry leader in the world of web hosting. They offer six different white label reseller plans, including three VPS reseller packages.
For those of you who want to take your reseller services to the next level, a premium VPS plan from InMotion has everything you need.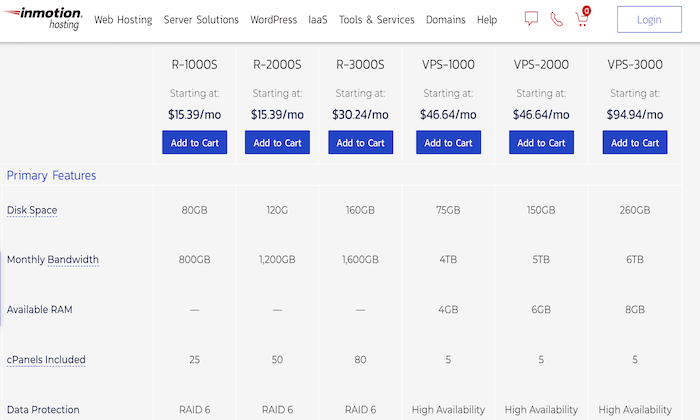 Every plan comes with free SSD storage, free billing software, cPanel and WHM, free domain reseller, 24/7/365 support, and white label resources. InMotion is optimized for WordPress out of the box as well.
But if you select a reseller VPS plan, you'll benefit from additional features like:
Up to 50 free cPanel transfers
Hosting optimized for e-commerce
High availability with real-time redundancy
Free server security, management, and maintenance
Optional root access
High performance with allocated resources for each site
Scalable resources
The shared reseller packages start at $15.39 per month, whereas the VPS reseller plans start at $46.64 per month. There's definitely a significant difference between these starting rates, but the VPS reseller hosting's quality and performance are unmatched.
All InMotion white label reseller hosting plans are backed by a 90-day money-back guarantee.
#4 – A2 Hosting Review — The Best For Billing and Client Management
A2 Hosting is synonymous with speed. They are known for providing some of the fastest web hosting servers on the market today.
When you sign up for an A2 Hosting reseller package, you'll have the option to upgrade to a turbo reseller plan, which gives you and your clients access to servers up to 20 times faster than most other options.
In addition to the top-notch performance, A2 offers a free WHMCS or Blesta license with its reseller packages.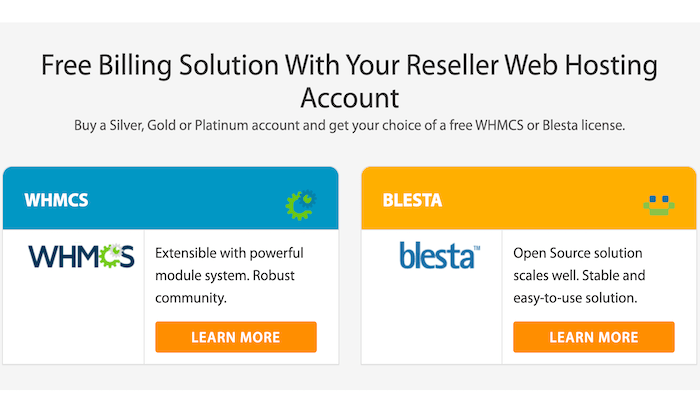 WHMCS and Blesta are two of the best client management and billing solutions for resellers. So, you'll have no problem managing your client lists at scale with A2 Hosting.
Other top features offered in A2's reseller packages include:
24/7/365 guru support
Free account migrations
99.9% uptime commitment
Free SSL certificates
cPanel and WHM
White label capability
Developer-friendly tools
The entry-level reseller servers from A2 Hosting start at $18.99 per month. Turbo reseller servers start at $29.99 per month, and I strongly recommend them. Your clients will definitely notice a difference in terms of speed and performance. The extra $11 is well worth it.
A2 also has a ton of guides and resources made specifically for resellers. You really can't go wrong with any of these plans.
#5 – Liquid Web Review — The Best Variety of Reseller Packages
Whether you're starting a new reseller hosting business or scaling an existing one, Liquid Web has everything you need to succeed.
They offer a wide range of reseller options, including dedicated reseller servers, VPS servers, and cloud servers.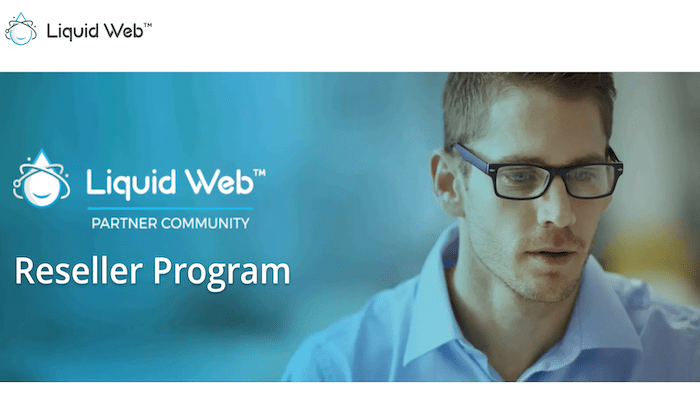 All of these options perform significantly better than an entry-level shared reseller plan.
Liquid Web also has a unique billing structure for reseller customers. The program allows resellers to purchase any hosting solution at a discount. But the exact discount is based on monthly revenue. The more hosting solutions you sell, the higher your discount will be:
$250-$500 per month — 5% discount
$501-$1,000 per month — 7% discount
$1,001-$2,000 per month — 9% discount
$2,001-$5,000 per month — 12% discount
$5,001-$10,000 per month — 17% discount
$10,001-$15,000 per month — 19% discount
$15,000+ per month — 20% discount
As you can see, there's an opportunity to make a significant profit here with these discounts as your reseller program scales.
All of Liquid Web's reseller packages come with a free WHMCS license. This makes it easy for you to customize plans for clients, generate invoices, and provide support to your clients within a single interface.
Liquid Web allows you to give your clients complete control of their plans so that they manage things like service provisioning, reboots, and load balancing on their own.
Pricing for Liquid Web's reseller program starts at $99 per month.
Summary
Every website on the Internet must have a web hosting service, and there's no shortage of potential prospects for resellers in the hosting space. But having success as a reseller starts with choosing the right program.
Which one is the best?
The top five options reviewed above is the best place to start your search. Whether you're a beginner, an experienced reseller, or somewhere in between, you can find what you need with the recommendations listed in this guide.
The post Best Reseller Hosting appeared first on Neil Patel.

Source: New feed 2